At a time of budget cuts, new school funding formulas and teacher shortages, the BESA Resource Our Schools campaign is both timely and important.
The campaign is designed to encourage the next government to ensure that schools are properly resourced and that there isn't a further downturn in expenditure.
Budget reductions are leading many schools in England to face a severe funding crisis. They are having to resort to asking parents for financial help in order to procure resources they can no longer fund themselves.
The below screenshot is a letter from a collection of secondary schools in North Hertfordshire explaining to parents about the funding crisis they are facing.
With rising costs year-on-year for schools, how sustainable will the current funding model be and can schools really keep asking parents to dip into their own pockets indefinitely?
Schools throughout the UK are already taking drastic measures to balance the books. The letter from North Hertfordshire schools continues by listing the impact budget cuts are having on their schools.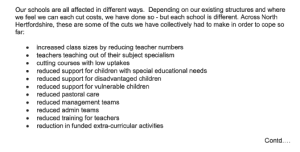 We know that well-resourced schools make for better learning environments and that improvements to schools can only happen with proper funding to spend on quality resources.
With schools having to make tough decisions about their budgets, we call on people to share their concerns and support the Resource Our Schools campaign by signing our statement. With your support we can make sure the collective voice of the sector is heard by government!