Bett Asia will gather the region's most senior education leaders, educators and innovators to celebrate the future of education.
When
9am - 5pm
Where
Grand Hyatt Kuala Lumpur
12, Jalan Pinang
Kuala Lumpur
50450 View Map
Price
Dependent on Stand Package
Bett Asia will gather the region's most senior education leaders, educators and innovators to celebrate the future of education.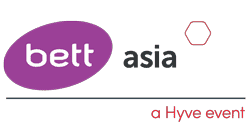 About the show
Bett Asia is the region's leading education conference and expo taking place on 2 - 3 March 2021 at the Grand Hyatt, Kuala Lumpur. Bett Asia celebrates the progression and potential of education technology, encouraging education professionals from around the world to meet face to face, share best practice, learn from experts in the industry and discover the technology to fuel their vision for the future of education. As a sponsor or exhibitor, showcase your vision, brand or product, to a targeted audience of key decision-makers in education and government.
With a new venue and exciting new themes, this event is looking to be the most exciting Bett Asia yet! 
Why Exhibit at Bett Asia?
Introduce your brand to those with purchasing power.
75% of Bett Asia 2018 attendees were final decision makers, while 84% attendees in total had at least some influence on purchasing. ​
Network and generate leads. Experts, policy makers, institution leaders and government officials from 41 countries with high purchasing power, gather to strategize, source new technology and share thought leadership.
Meet the end users. Visitors come to keep up-to-date with products and market trends, to discover new products, and to meet new solution providers.
Content sessions are curated for senior through to end classroom users – all whom visit the exhibition floor.
Enhance your presence in the region. Asia represents the largest education system in the world with the largest population of youth between 10-24. 
---
Stand packages
There are various stand packages which can be discussed with the Bett team.
Bett Asia  are introducing a new 'Tech in action zone' with a pod option for UK exhibitors. These pods will be prices at £2,000 +VAT. The zone will also include a demonstrator classroom and a demo zone.
---
BESA service
UK companies, both BESA members and non-members, will join the UK Pavilion and benefit from our marketing and organisational support at the Bett Asia.
---
DIT support

There are £2,000 grants available from DIT, which will be allocated on a first-come, first-served basis to eligible companies. The grant can be expected to be paid within 4-6 weeks after the event takes place.
---
How to apply
If you would like to exhibit and apply for a grant, please complete the following, and return all completed forms to Yasmin.  Following this, you will be contacted by a member of the Bett team to discuss your stand requirements. If you do not want to recieve a grant, please contact Yasmin, who will put you in touch with a member of the Bett team. 
Grant application form
Exhibitor signed T&Cs agreement form
For more information about the event, please visit the Bett Asia website. Alternatively, BESA's International team are here to help every step of the way, so contact Yasmin.
Sign up for updates from BESA
Latest event
11/11/2020 - 12/11/2020 @ 1:30 pm - 4:30 pm - BESA is delighted to announce it's online AGM and Annual...
10/11/2020 @ 10:00 am - 1:00 pm - The second in a new series of online training sessions delivered by...