As a passionate educationist, Deputy Headteacher Gareth Butcher has a strong interest in the professional development of staff. Southfield School is based in Kettering and has over 1000 secondary age pupils. We discussed how introducing our integrated appraisal solution SchooliP has been incredibly worthwhile for Gareth and his colleagues.
There have been many benefits of using SchooliP. Principally, a range of crucial processes are now interwoven with demonstrable value and measurable impact. School and departmental Self-Evaluation Forms are linked to improvement planning with specific activities assigned to staff and they are tracked through uploaded evidence to measure progress.

Gareth Butcher – Deputy Headteacher – Southfield School
Gareth gave us some background as to why an electronic performance management system was desired. 
Teaching staff appraisal objectives were set in the autumn term with a mid-year review taking place in February through a paper-based system. Professional development occurred during INSET days and when staff attended external courses or conferences. Although requests for training were reviewed centrally, it was not easy to see how professional development reflected school priorities or the needs of individual staff. Moreover, the system did not enable possible sharing of impact or collaboration. Fundamentally, appraisal was something that was examined just twice a year rather than being a constant focus. Professional development was not structured robustly enough to make it as effective as it should have been to have a genuine impact in the classroom.
Gareth first encountered SchooliP at a BETT exhibition and immediately felt that the system was a good fit for Southfield. 
We needed a system that could bring together a range of fundamental processes. These included self-evaluation, school improvement priorities/objectives/actions, appraisal, quality assurance and CPD as these are not exclusive, but are inextricably linked. SchooliP provided the solution to bind these aspects and support our ongoing development incisively and measurably. We have restructured our school day to provide professional learning (CPD/training) to take place every week in cross-curricular collaborative groups and through different elements and phases. Our teaching staff demographic is predominately staff who have reached the upper pay scale. Therefore; we needed to be secure that all staff were able to fulfil career stage expectations and that monitoring, evaluation and learning were robust. Ultimately, we needed a system that would support our significant focus on pedagogy and wider school improvement strategies to ensure that impact was measurable.
SchooliP integrates the teachers' standards into the appraisal process. 
Teaching staff have been able to self-assess against the teachers' standards and have this reviewed by their line manager. This was structured in line with our own in-house career stage expectation criteria aligned to the standards. This informed how appraisal objective priorities were set.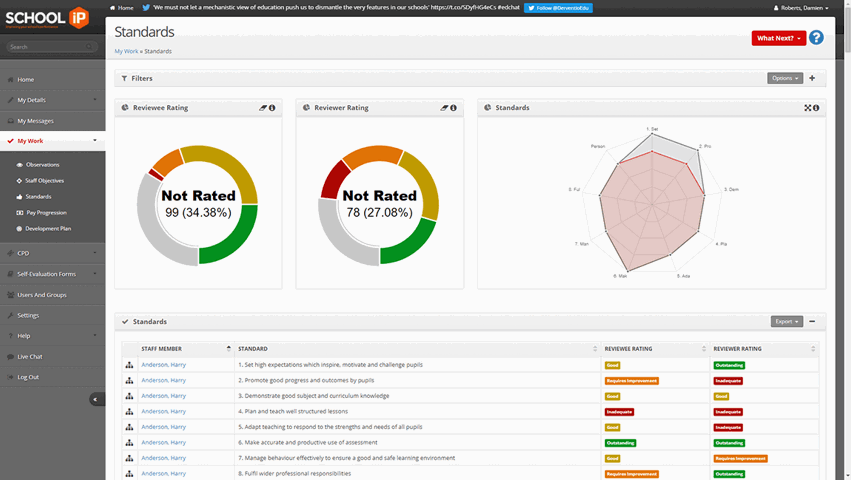 In a practical sense, SchooliP has changed the overall approach to professional development.
Staff can attach evidence, CPD and learning review (observation) outcomes and personal reflections (blogs) to the objectives. Also, staff able to see a clear record of their personal CPD and how this has developed over time. This is aligned to their personal needs and reflects whole school priorities. As a school we are able to monitor CPD activities and assign courses in line with developing staff needs and the required impact.
It is apparent that SchooliP has been integral in establishing a culture of collaboration. 
We can track quality assurance processes (in reference to our monitoring, evaluation and learning cycle) closely and use this to inform changing priorities at different levels. There is a greater sense of knowledge, understanding and ownership at both middle leader and individual staff member level. Our in-house professional learning model has brought collaboration through groups (horizontal through cross-curricular and vertical through career stage) to the forefront of our pedagogical development which is rooted in sound educational research. SchooliP has allowed us to facilitate this model. We can share resources online through the sharing feed and create collaborations between specific staff in a coaching format. All our staff blog about what specific aspects of pedagogy they are working on in the classroom following research sessions.
Gareth was asked to describe how SchooliP has directly impacted on staff.  
There is a 'buzz' across our teaching staff about teaching and learning and schooliP is enabling us to capture that excitement and professional dialogue. This is probably the most critical impact of implementing SchooliP. The system has also helped to ensure that we are GDPR compliant. All staff actively use the system routinely. There are no paper systems for any of the processes anymore. Staff can see the real-time benefits of using the system and are able to make decisions informed through active evidence.
Most pleasingly, SchooliP has had a noticeable impact on teaching and learning. 
There has been very positive feedback from staff on the impact it has had on their own professional learning. We are able to transparently review developments across the school at many levels, from whole school objectives to individual staff training needs. We are able to incisively review and quality assure what is happening at the school. This information was then used to put strategies in place to best support learning in the classroom.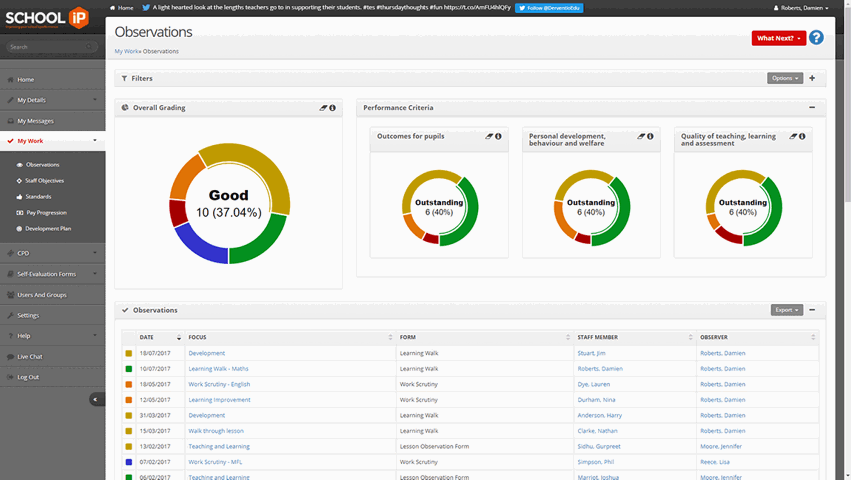 Understandably, we are delighted that SchooliP is yielding such positive results. We asked Gareth why SchooliP has enjoyed such a successful implementation at Southfield. 
Having a clear process for measuring career stage expectations has been crucial alongside a revised appraisal policy. Our vision is to foster a culture based on collaboration and professional learning in which research is at the heart of how we develop our teaching and learning. Performance is managed continually with staff using the system to take ownership of their own development all the time rather than at specific points in the year. SchooliP has provided the platform for us to structure and share information across the school.
Gareth gave some practical advice to other schools considering SchooliP. 
Do not just consider it, use it. The SchooliP team are excellent and have been very open to our suggestions to make the language and structures bespoke to our school. The ongoing support is fantastic. The system is very powerful and having a clear understanding of its utility will mean it has the desired impact. Schools have a responsibility to ensure they place the professional learning and career progression of their staff at the heart of improvement. The investment in SchooliP will contribute to teacher retention and sustained school improvement.
 Finally, we asked Gareth to describe SchooliP in no more than 10 words. 
Powerful, dynamic, collaborative, incisive, flexible, informative, transformative, relevant, sustainable and current.
If you would like to experience the benefits that have been enjoyed by Southfield School and Gareth Butcher, please do get in touch. Our sales team can be contacted on 0333 0433 450 or info@derventioeducation.com. Alternatively, click here to arrange an onsite or online demonstration of SchooliP.