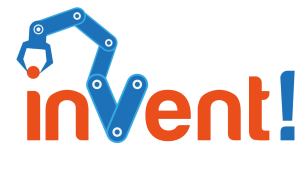 There's nothing like the excitement of seeing real-world devices like robots come to life with a simple computer programme. The problem is that the current 'physical computing' devices in education are either too expensive, complicated or fragile to be effective in the classroom.
Invent! fills this gap. The Robot Starter Kit that will be launched at Bett 2017 is affordable, easy to use, and rugged. Based on an innovative drag-and-drop system, the core module can be programmed using a USB cable from PCs, Macs and even Linux computers. It uses a driver-less connection which means that after installing the software, it 'just works'.
The clever click-together modules allow an advanced robot to be constructed and programmed in under five minutes so teachers can quickly focus on real-world problem solving and programming. 
More experienced users will be able to swap the base controllers for Arduino-compatible module with Wi-Fi connectivity to implement internet-connected devices, design their own mechanical base boards, connect a variety of widely available sensors and even create their own custom-designed modules.
Invent! Is a product of Lightbox Designs, the R&D arm of techcamp.org.uk who have been teaching young people how to programme and build inventions since 2008.
Website: http://www.lightboxdesigns.com/
Twitter: @techcampuk