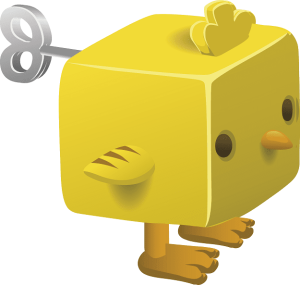 Kids and robots go together like Penn & Teller or Tom & Jerry; there's a magic mix of fun and mayhem and no child should go without the opportunity to create and learn.
For most teachers, robots were something we only saw in the world of science fiction. Today, robotic learning resources are being used in many wonderfully creative ways in classrooms around the world.
Educators are beginning to experiment with how robots can add value to their classrooms. Sadly, this is still in the early stages and that is purely down to price. The robotic learning resources available are too expensive for many schools despite the interesting new learning opportunities they provide; most robot kits are out of reach to the majority.
Schools need a simple, robust, fully programmable, expandable, open source robot design that costs under £10; at this price level, both teachers and parents can afford to invest in this far-reaching learning resource and schools can equip a whole classroom.
ChickBot is a practical, affordable and effective learning tool that we have been prototyping and testing over the past year. Over five hundred kits have been built.
ChickBot goes beyond just being a robot, allowing add-ons that provide a whole platform for realizing ideas using physical computing.
Please come to stand 36 to see ChickBot in action and understand how affordable it is for your school.
Website: http://chickbot.club/
Twitter: @ChickBotClub