We're thrilled that Classlist is a finalist in the 2018 Start-up of the Year category.
Our free app allows lawful sharing of parent contact details between parent members at each school, instantly ridding schools of the hassle of forwarding messages and PTA mail-outs. It connects parents helping to create an engaged parent community, that in turn supports the school. In fact, over 1,900 schools in the UK have now registered.
The idea for Classlist came to founder, Susan Burton, after returning to the UK with her children part-way through the academic year and finding herself thwarted in her attempts to connect with other parents: the school couldn't give out parent contact details due to data protection regulations and getting added to the class list was a very hit and miss affair. This meant missing out on all important class information, parent coffees and even birthday party invites. She thought "there must be an easier way".
We're not a forum for gossiping and grumbling – far from it. We provide a space for parents to share useful information to help each other through the rollercoaster ride that is the school year. Using Classlist, they can get everything in order: pickups, dropoffs, lost property, quiz night tickets and maybe even forge a lifelong friendship (or five).
The app hosts secure, mobile class lists, so parents will always have the contacts they need, and it also works as a private social network for each school. It's safe, moderated and GDPR compliant, so schools can escape the headache of navigating parent data, knock negative social media chat on the head and boost parental engagement for Ofsted. As parents are directed to register at Classlist.com it's much more inclusive and controlled than WhatsApp groups. The site Ambassador and Admins (usually the PTA and class reps) approve parents before they can join.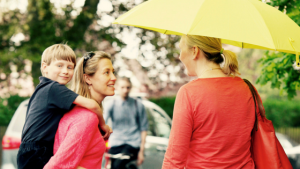 "Classlist offers a safe, well-controlled environment for parents… different from social media!" Josephine Marsh, Headteacher, St Joseph's Catholic Primary School, Chalfont St Peter
PTAs love it because they can step up their fundraising efforts by contacting parents directly (again, taking pressure off the school office), organising and ticketing events, and drumming up more volunteers through the app.
"Classlist has fundamentally transformed the PTA's ability to organise events, fundraise and communicate." Richard Murray, Headteacher, Christ Church Cathedral School
Classlist is free (and will remain so) because we're funded through good-quality in-app advertising from carefully selected local sponsors. Some of our PTA partners have already raised four-figure sums through sharing 50% revenue from the local sponsors they've introduced – how's that for school support?
We'll be near the Bett Futures corner at the Bett Show 2018 (on stand D72) – come say hi! We'll happily answer questions and show you how one little app can connect a whole school community.
Check us out and sign up for a FREE Classlist site for your school on our website.