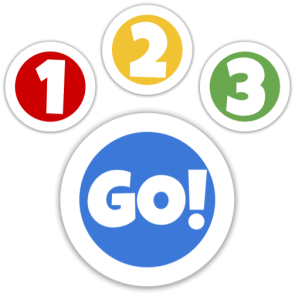 Your school is under constant pressure to adapt and evolve, and yet embracing change is really hard. You plan your new initiatives meticulously, you organise training sessions delivered by great presenters, the immediate feedback is positive and enthusiastic – and then somehow it just doesn't stick.
We know what it's like: over the past ten years we have delivered hundreds of great staff training sessions, with terrific feedback scores, and found that a month later – for all sorts of valid reasons – people just haven't been able to embed the new ideas into their working practice.
We set out to fix that problem, and 123GO! is the result.
We've developed 123GO! to help you make CPD count. Using a simple 'Look, Learn, Try, Earn' structure, you can take any content, break it into bite-sized chunks, add a checklist and a challenge, and reward progress and mastery with badges. And do it all in five minutes flat.
To learn more and see it in action, visit us at www.123go.training or on Stand 10 in the Bett Futures area.
The Senior Team
Mark Allen, CEO, is a cloud-technology expert who has helped hundreds of schools and other educational establishments the world over adopt contemporary technology in order to help them improve learner engagement, work smarter and save money. He is a Google-Certified Innovator and Trainer. Prior to this, he built a wireless broadband network across East Anglia and ran a financial information software house following an earlier career as a financial derivatives trader.
Gareth Evans, CIO, was Group MD and CIO at iSentry, a company whose client base he grew from two banks to 180, before selling the company in April 2013. Previously, he was a European managing director for Thomson Reuters and has over 30 years' experience running small and large businesses.
Jonathan Coone, Lead Developer, is a former Royal Marine who, when injured in training, took up the challenge of programming and has been coding for the past seven years. His role in 123GO! is to develop the user interface (UI) and back-end application programming interface (API) of the product. A recurring theme in Jon's approach is to strive for the simplest end-user experience possible.