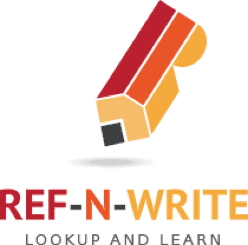 Working as a senior computer scientist at the Royal Surrey County Hospital, Guildford I have a passion for building simple and beautiful software that makes people's life easier. Ref-N-Write tool is inspired by the problems I have faced while writing scientific papers during my academic research career spanning over six years.
REF-N-WRITE is a Microsoft word add-in that allows users to pull information across hundreds of user selected documents at the press of a button. REF-N-WRITE can be used by writers for text recycling, plagiarism check and data mining. Novice beginners can import reference materials into REF-N-WRITE and compare their writing with their peers both content wise and language wise every step along the way. REF-N-WRITE supports DOC, PDF and text file formats, and the user can view the search results at sentence, paragraph and document levels.
REF-N-WRITE allows users to practice imitative learning, which is a type of social learning where writers look up for statements of similar style, type and tone from previously published works of high English standard, and inherit some aspects into their writing. The writers using REF-N-WRITE can look up previous documents for genre specific knowledge and disciple specific vocabulary in real-time, and craft the language such a way that it is acceptable to the target audience.
We look forward to meeting you on stand 46.
About Premkumar
Before my current position, I worked as a research scientist at the University of Surrey (Guildford), lecturer at Bucks New University (High Wycombe), research assistant at the Natural History Museum (London) and as a software engineer at Tektronix plc (Bristol). I have authored numerous scientific journals and have six patents to my name.
Website: http://www.ref-n-write.com/
Twitter: @PremkumarElango