In just one week, UK team talks to over 2000 people about depression, stress and anxiety.
BESA member Dr Asha Patel, clinical psychologist and CEO of the not-for-profit Innovating Minds, spent a week in Bangladesh this summer as part of a team of four psychologists on a trip funded by the Akij Foundation.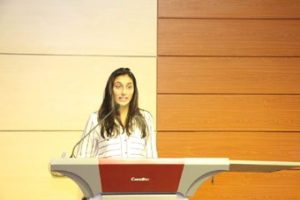 The trip was a chance for Innovating Minds to raise awareness about their work, get an indication of current views and knowledge and to see if the Innovating Minds model of reaching out to young people in education would translate to a different culture.
They ran sessions with a wide range of groups: members of the Psychological Institute, 18-year-old students suffering from exam related stress, members of the national cricket team and cadets from an army college living away from their family who feel pressurised and to maintain physical fitness.
There were university students who sometimes combat depression by resorting to illegal highs, young people facing financial pressures and about 60 people from the Akij Foundation, mostly managers and directors, looking at leadership skills and well-being.
The team was made welcome everywhere they went, and there was great curiosity about the work of psychologists in the UK. There are only 50 psychologists in Bangladesh so demand for their services is high. There are some good services in Bangladesh, especially in the field of learning disabilities, but the team found conditions in a mental health hospital very different from the UK. There were eight to ten beds per room and an emphasis on drugs and medication rather than therapies.
'Generally, young people in Bangladesh seemed to be more interested in mental health than their UK counterparts,' said Dr Asha Patel. 'They were particularly keen to find out about mindfulness. It was good to see that many of them are already developing the skills they will need as mentors: they rely on one another, they use skills and strategies such a talking or listening to music.'
Staff in Bangladesh are keen to up their skills and Dr Patel is exploring possible links. If all goes well, Innovating Minds will develop a proposal to provide an education model for mental health support in Bangladesh. Training will be a mixture of blended learning with regular visits from a clinician.
– ends –
For further information please contact:
Dr Asha Patel (asha@innovatingmindscic.com )
CEO, Clinical Psychologist, Innovating Minds CIC
Tyler House, Tyler Street, Stratford-upon-Avon CV37 6TY
Website: www.innovatingmindscic.com
Mobile: 07854585946