By Chris Mahady, Managing Director, Hope Education
Hope Education is the home of inspirational and best-value resources for schools. Education is our passion and is at the heart of everything we do, but we also understand the severe budget constraints schools and early years establishments are facing, and have therefore decided to invest over £4 million to lower our prices to give our customers significantly better value.
We've worked hard to identify the products most frequently bought by our customers, and have dropped the prices of over 700 essential art & craft and stationery resources – and these are available now, exclusively on our website.
No other supplier is doing this, and this is not a time-limited discount promotion. This is an investment in lower prices for schools and early years establishments, because we understand that this change is needed to allow for reinvestment of the savings back into your school or setting.
To make it easier for our customers to secure this best value, our website has a new online price comparison tool so that when they shop online they can see how much they're saving. Instantly. It will clearly and simply show the savings they can make if they shop with us instead of The Consortium or TTS. We are the only supplier offering schools and early years establishments this time-saving, visible, price-comparison tool.
They can also be confident in the quality of our own-brand products, which is why our customers can take advantage of our new Switch & Save functionality. Switching from big brand items to our better value, lower cost own-brand Classmates alternative products is made easy on our website. When customers add an item to their basket, we automatically offer them the Classmates alternative and show them how much they can save. They can then choose the lower cost option instead – ideal for saving even more on everyday essentials. Over 7,000 schools are already benefitting from our Classmates range and the great savings.
Customers can view all of this online now at www.hope-education.co.uk
We want all schools and early years establishments to share this with their colleagues and surrounding establishments so they can benefit from our £4m investment. We want all head teachers, school business managers, bursars, nursery managers and owners to know that we are serious about saving them money.
On top of the £4 million investment in pricing, we also know that our customers are time-poor and workloads are too heavy. We have been working hard behind the scenes to bring to market various time-saving solutions that can now save our customers up to 80% of their administration ordering time. We have also made impressive improvements in our website and digital procurement solutions, so no matter what type of education establishment, we have a solution that will save them time as well as money.
Built with our customers in mind, our WebFMS solution saves customers time and improves financial efficiency. It integrates a school's financial management system directly with our website, allowing customers to shop through the Hope Education website, place an order and send it straight through to their system. It reduces paperwork as it is fully compliant, and it simplifies the authorisation process to give complete control. There are no set-up or ongoing costs related to it, and it can be installed in under ten minutes.
Our new website also improves shopping experience for our customers. Giving a much better user-experience, customers can now benefit from an easier way to find products with our powerful yet intuitive search function, a streamlined checkout process, and improved quick order form. There are also more payment options (including PayPal), a delayed delivery option allowing customers the ability to choose when to receive their order if they don't need it straight away, as well as easier browsing on mobiles and tablets. They can even save favourite orders into handy lists, to help make shopping easier and faster each time. Here's what one recent happy customer has said:
"I love the new look Hope Education website which is soooooooo easy to use! I love being able to view the invoices and the statements online too! My school ordering is so much faster than it used to be! Thank you so much Hope Education!" – Caroline Kent, Orkney School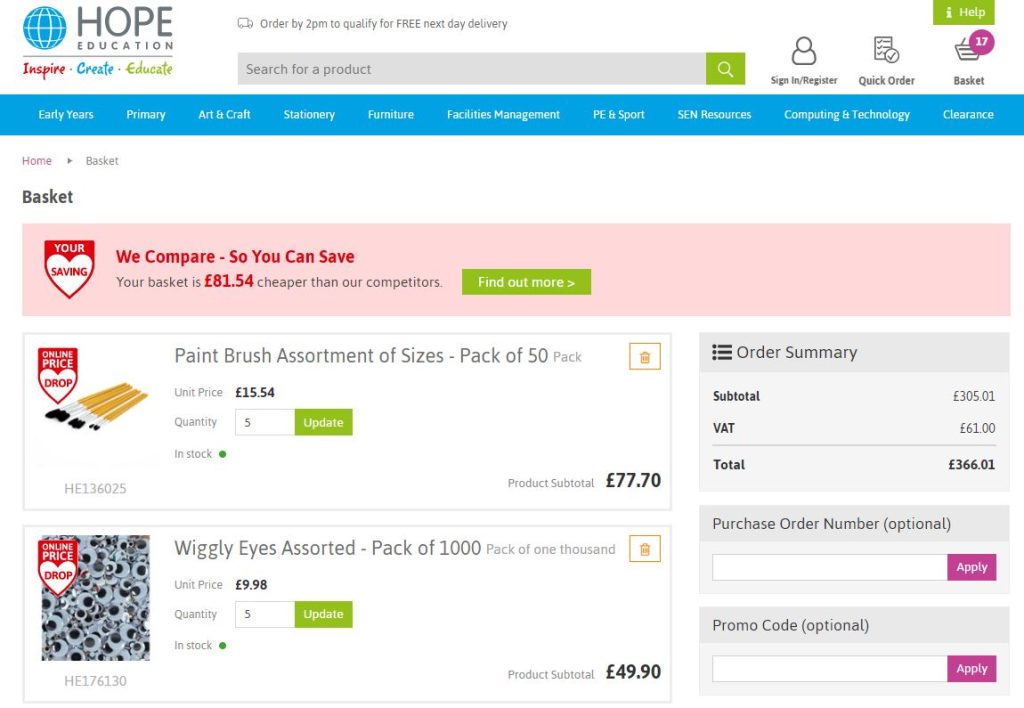 For customers who want greater control of their budget with staff authorisation levels, our WebFlow system is also new. It is easy to set up "delegates" who can request orders for approval by a central web account. It is all managed online without any need for technical set up. Customers simply shop, get approval and the order is shipped; it really is that easy.
With budgets tighter than ever, and workload pressures as intense as ever, Hope Education has the solutions the market needs. Add on our industry-leading product range and innovation, and our award-winning customer service, and customers really can start to Save Money, Save Time, and Love Hope.
Featured images courtesy of Findel Education.