National Online Safety will be attending Bett 2018 (stand H103) in London from 24 to 27 January, and are delighted to present our new and innovative Oscar's Adventures in the Online World online safety storybook and classroom resources for schools, along with our newly developed school staff and parent courses in online safety.
According to a recent NOS survey, conducted in December 2017 among over 400 teachers across the UK, worrying figures show over half of UK school teachers don't know which apps and websites their pupils are using and 70% believe that their pupils know more about social media than they do.
At National Online Safety, we understand how quickly the online world is changing so it is our mission to help schools implement our whole school community approach to online safety.
We empower school staff, parents and children with the knowledge they need to understand online dangers through our engaging online training courses, classroom resources, online safety audits and webinars.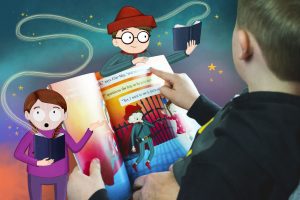 At Bett 2018, we will be showcasing our extensive range of products and services for teachers, parents and children. Here's a closer look at what we will be exhibiting at the show:
NOS Certified School Package
The National Online Safety Certified School accreditation is the most comprehensive online safety package for schools looking to train their staff, and prepare their school for an Ofsted inspection. The NOS Certified School status combines our Online Safety audit and Online Safety training package with consultancy support to implement any areas of improvement highlighted through the audit.
KS1 and KS2 Classroom Packs
Our KS1 and KS2 classroom packs for schools are loaded with comprehensive lesson plans and engaging resources covering current information about cyberbullying, online payments, online gaming, social media and personal information.
Online Safety Book for Schools and Parents
Oscar's Adventures in the Online World has been created to help you understand what it takes to stay safe in the online world. It can be used as a storybook at home or as a resource in the classroom. All you need is a hint of adventure to open up endless hours of wonder and excitement while learning how to make safer decisions when using the internet. Help Oscar make the right decisions so he can avoid dangers on his journey through the online world.
Online Safety Course for Parents and Guardians
This course has been specifically designed for parents and carers to protect their children from online dangers. The course includes a practical guide for parents about how to keep children safe on the platforms they are using today.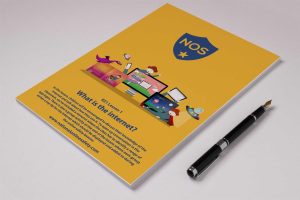 If you'd like to find out more about how you can help keep children safe online, come and visit us at stand H103 in the Bett Futures area and discover how you can become a NOS Certified School.
For more information about our products and services, visit our website or speak to one of our online safety experts on 0800 368 8061.