Pobble Awards 2018!
Every day, we're inspired by wonderful writing, exceptional effort and terrific teaching. We know this deserves to be celebrated which is why we've organised the first ever Pobble Awards!
With twenty categories to choose from, there's something for everyone. Schools can celebrate their awesome young writers (KS1, KS2) and their teachers too!
Do you have a handwriting hero, a grammar guru, or a narrative ninja in your class? Or a teacher on your staff that continuously goes above and beyond to make writing ridiculously exciting in your school? It's people like this that deserve a nomination!
We've got some awesome prizes from our sponsors up for grabs. The nominees are in with a chance of winning book bundles, annual subscriptions and even a hotel stay!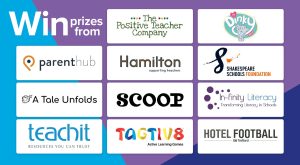 The awards are open for anyone to enter, whether you're a Pobble school or not.
So who do you know that deserves a nomination? You'll find the full category list here, plus details of all the prizes and how to nominate.
We'll look forward to your nominations!