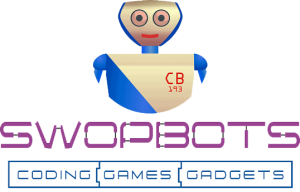 It was when we were teaching coding and engineering to children at the charity school we founded in Bangladesh, that we developed SwopBots. The children we were working with had no prior computing experience and therefore, required a meaningful, well-structured and engaging approach to get them enthusiastic about coding and engineering.
Since the launch of the new computing curriculum in primary schools, it has become even more important to find engaging ways to introduce young children to coding and to communicate the exciting possibilities this new skill can provide.
With SwopBots, we took a fresh look at introducing coding and electronics to primary aged children by using a story based approach with identifiable characters to help learners feel intrigued and engaged. Swopbots is built around the story of Loop, Switch and their three robot companions. Reading stories, coding games and building gadgets allows children to explore and develop various skills, not only coding, but also problem solving and creativity.
The SwopBots story shows how coding, engineering and team-work can be used to overcome the problems faced by the characters. The SwopBots game combines a familiar block-based coding system together with the features of a traditional platform game to promote coding and puzzle solving skills.
The process is easy to follow as SwopBots has been designed to appeal to complete beginners who have never even used a computer before, so the children can be easily supported in their learning with the help of parents, teaching assistants and teachers.
Bett 2017 marks the official launch of SwopBots and we are very excited to invite teachers, parents and students to come along, meet Loop and Switch, build some gadgets and play the SwopBots game for themselves.
Come to stand 9 in the Bett Futures area to see what you can create!
Website: http://swopbots.com/
Twitter: @swopbots
YouTube: https://www.youtube.com/swopbots
The senior team
Luke Doyle
After graduating from University of Kent with a first class degree in English Literature & German, Luke Doyle completed his PGCE at Canterbury Christ Church. In January 2011, Luke Doyle co-founded and became a trustee of Computers Are Free For Everyone, a charity teaching coding, engineering, graphic design and web development to underprivileged young people in Bangladesh. It was during his time here that Luke and his partner realised the need for a teaching resource to introduce KS1 and KS2 children to coding.
Kobir Uddin
Kobir Uddin grew up in a small village in Sylhet, Bangladesh. His first experience of using a computer came at the age of 11, when he met Luke Doyle who was working as a teacher trainer at a local NGO. Since then, Kobir has gone on to learn web-development, graphic design and animation. For his A-Level project he built an e-commerce website for an American company; he has also worked on both web and app development projects with Sesame Street. As well as working on SwopBots, Kobir is currently heading up the charity he founded with Luke Doyle, where he spends his time training teachers and developing curriculum materials for their students.