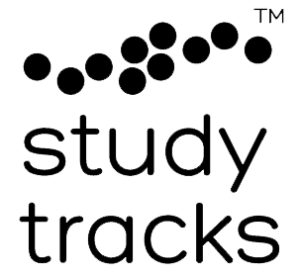 We launched Studytracks in February 2016; it's an innovative app that turns revision material into lyrics, or "hooks" as they're known in the music industry, and places them to a variety of musical tracks. It's aimed at secondary school and college students (11-18 year olds) studying for their GCSE, SAT's, AS & A Level exams. Because it's an app where the tracks can be downloaded to your phone it enables students to lose the desk, revising anywhere and everywhere. After launch the app was quickly downloaded over 35,000 times.
As student listens to the music, the hooks become embedded in their memory – just like the lyrics of a song – so that when something triggers the hook (like a word or phase in an exam question) students are able to recall the information easily and effectively. Learners can then test their recall using the in-app quiz.
With Studytracks, students can learn in a way that appeals to their tech-savvy, instant and millennial lifestyles, giving them the chance to enjoy studying and improve those all-important exam grades. It's so easy they can even study with their eyes closed.
If there was any further proof needed that we were onto a winner it came when the results of the 2016 GCSE's came in for the students that had studied using Studytracks. We received a lot of comments about how the app had taken previously hard to study topics and made them digestible, delivering results above expectations in the form of higher grades. Other students expressed their amazement at how the app had indeed hacked their brains into remembering and recollecting at the exact time needed for it to be useful. 
We'd love to tell you more about the Studytracks app and platform version that's launching for schools, so come and visit us in the Bett Futures area at Bett 2017.
We look forward to seeing you on stand 50 in the Bett Futures area of Bett 2017.
Website www.studytracks.education/
Facebook https://www.facebook.com/StudytracksAPP
Twitter @study_tracks
About George:
George has been involved in the music industry for years. He was a member of 90s group 'Rhythm N Bass', then pursued a career in song-writing, working with some well-known names in the industry such as Mark Ronson. He also won an Ivor Novello award for Liberty X's "Just a Little".
More recently, George has been working in education, looking at how music can aid study and revision. In February, George launched Studytracks and in five months, the app has attracted the attention of over 35,000 users – and this figure is increasing daily.