WordUnited exhibited at the Bologna Children's Book Fair this spring and attended the London Book Fair. As a children's educational publisher and educational supplier, book fairs are crucial events in WordUnited's calendar. International book fairs are windows to trends in publishing, including books in both print and digital formats for education. They are also platforms to broadcast our titles and services to local and global markets. They are hives buzzing with inspiration and opportunities.
This year, we were delighted to present our new titles in the unique "Let's Read" phonics series. The "Let's Read" series uniquely introduces all the phonics sounds and blending to early readers and is designed specifically to easily distracted children. It was brilliant to receive interest from local and global buyers for both direct sales and rights.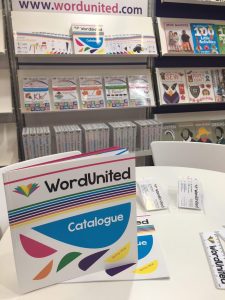 Days at the fairs were packed with meetings and presentations, some to collaborate with publishers for future titles and others to learn about titles we feel would be great additions to primary schools and nurseries. It was heart-warming to meet so many people in the publishing industry, including authors and illustrators who are all passionate about developing the best content for children.
It was inspiring to browse exceptional educational books including titles by British, Scandinavian and East Asian publishers. It is clear that books for children are wonderfully becoming even more captivating and engaging at every level.
Another trend in children's publishing is that more content for children is delivered across different platforms including print, audio and digital. While the debate pendulum between digital and print for children continues rocking, at WordUnited we believe that children can benefit more from both as different formats address different learning styles.
For example, holding a physical book and feeling its beautiful cover and pages nurtures a closer connection with the book and its content. Books are less distracting, less tiring on the eyes, and easier to use when you want to create a calm environment for children. Researchers have found that children retain more and achieve higher levels of comprehension when reading printed books compared to reading a book on a tablet. Don't ditch the tablets though!
Digital formats, including interactive stories and apps, enable a wide range of auditory and sensory experiences, and can be highly engaging. They can facilitate and tailor learning, and provide instantaneous feedback in ways a printed book cannot.
Another growing format for children is audiobooks. Children love listening to their favourite stories, and the educational benefits from audiobooks are numerous, especially for reluctant readers. Listening to stories aloud encourages visualisation and promotes imagination, both linked to improved comprehension. Using both formats, print and audio, helps children recognise and link words while developing vocabulary. Ultimately, helping children enjoy and love reading is the superior goal, regardless of the format.
It is important to highlight the value of good quality books for both children and schools. Educationally, there is a strong link between the use of textbooks at schools and pupil performance, as seen in Singapore and Finland. Economically, recent research by Frontier Economics, commissioned by the Publishers Association, reported that "textbooks need only save teachers 4.5 minutes each day to pay for themselves". With increasing workload on teachers, books can save schools valuable preparation time and reprographics cost.
A final reflection is that in addition to textbooks, other children books and stories designed to read for pleasure can also be abound with numerous educational values and can "gently" help children develop essential skills.
For a wide selection of high quality books for EYFS, KS1 and KS2, please visit our website.