Isn't it interesting that one of the most universally suggested tips for attending Bett isn't about the future of learning, but about footwear! What are your most comfortable shoes? This is surprising because teachers could probably tell EdTech manufacturers a thing or two about being on your feet all day! 
So double Bett Award finalist Learning by Questions have joined forces to list six 'alternative' questions you could be asking yourself before you head to Bett 2018:
Have you got a pedometer? Covering some ground is something to be proud of. Wouldn't it be great to leave Bett with some innovative teaching ideas AND having burned 2,000 calories? Smug.
Does X mark the spot? Pirates do not have the monopoly on knowing where they are going. Bett App has a fancy 3D map that Long John Silver could only dream of, so plan your route to find treasure. If you don't know where to start, try the Bett Award Finalists – someone thinks they're doing something right!  
Are you a butterfly or a bee? The sensory overload that constitutes Bett cannot be overestimated. You have two options: flutter around or make a bee line. Our advice is the latter because time is short and opportunities to make face-to-face connections are rare.
How many free chocolates can you eat without feeling sick? Think about what you really want to get out of your visit. It probably isn't a carrier bag full of pamphlets you'll have to lug home on the DLR and cheap freebies. Choose carefully. We're offering 200 free maths mastery question sets worth £150 per teacher and the software to run them at Learning by Questions – doesn't that beat a set of sticky notes?
Who's really in the know? They say if you visit a foreign country, pick a restaurant where all the locals go, they know where the food is good. Same applies to Bett, ignore the flashy sales, find the teachers. Teachers know what really works in the classroom and there are teacher demos you can catch like ours, every half hour at #standH60. Beware, there are pupils there too!
Are you a fan of Sherlock Holmes? Take a tip from the super sleuth: "There is nothing more deceptive than an obvious fact." Can the sales pitch be supported by evidence? EdTech developers worth their salt will have done their research and be able to prove the value of their product for your school. Check out our own research paper here.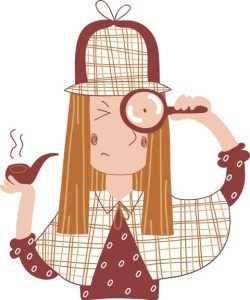 This list isn't to be taken literally, or exclusively. Please don't turn up to Bett in a deer stalker, it gets warm in there! But we can confirm that questioning is a very effective way to learn so have a think before you jump on the DLR. And wear comfortable shoes!