Young children build up an understanding of the world around them through a variety of play activities. This includes the use of digital technology. It is important, therefore, that all children become confident with this media in early years settings, especially those who do not have access to technology at home.
Digital resources need to be part of the learning environment of the current generation of children, in which the balance needs to be struck between technological confidence and screen time.
As manufacturers of early years resources, we are aware that tablet technology is readily available to young children. We are fascinated by the ways in which it adds value to the learning process, and the opportunities it offers to individual learners. We believe that such positive contributions are possible with appropriate practitioner engagement and software at the right developmental level.
Physical play
Yellow Door has many years' experience of creating resources that engage young minds and offering hands-on play and exploration opportunities that shape individual learning. While technology does not replace physical resources, it can offer specific advantages, including motivating young learners, allowing trial and error and rewarding success. We believe that the learning experience can be further enhanced when physical and digital resources are used alongside each other.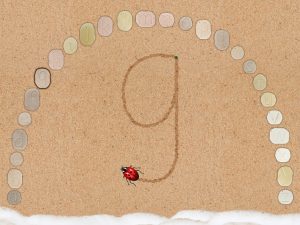 Technology can add value
Yellow Door started developing apps for tablets a couple of years ago. We took a fresh look at some of our most popular physical resources and considered how technology might add value to them. We came up with a range of resources that are easy to use in a teaching setting and extend children's thinking with new learning opportunities.
We started by developing apps to accompany our Come Alive Traditional Tales series of books and characters. These offer integrated audio, teacher options, games, interesting non-fiction and self-recording storytelling functions.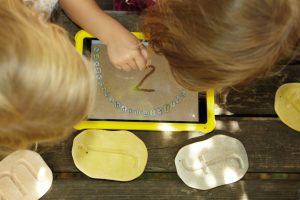 Award winners 2017 and 2018
It is pleasing that teachers have acknowledged the value of our apps and that Yellow Door has been a finalist in the Bett Awards for two years running. This year we have a suite of two apps with their physical resources that help children get to grips with early letter formation. The resources offer opportunities for indoor and outdoor learning, with children practising the same skills in a variety of ways through play. The app models letter formation, allowing the children, with practice and attention, to master this skill.
Collaborative play and communication
While children may be happy to work alone or in pairs on tablets, the most effective learning takes place when there is teacher and peer interaction. Large screens and interactive digital tables offer greater opportunities for children to work together. We have created special multi-player versions for large screens to facilitate such learning.
Over the last two years, we have focussed on new app development, and many are being launched at Bett. The range will then include 20 apps, which work on all tablet technologies: Android, IOS, and Windows.
Unlike many apps on the market, this selection has been developed specifically for classroom use. Teachers generally buy licences for a group of six devices, although single licences are available for home education purposes.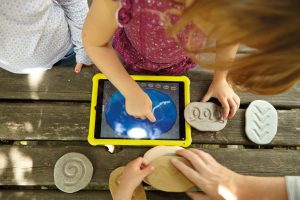 Come and see us on stand G95 in the Bett Futures area.
For more information, visit Yellow Door's website.