A Cumbrian manufacturer is giving away thousands of pounds worth of educational play equipment and furniture on Budget Day, and Cumbrian schools and nurseries are being urged to come and take advantage of the giveaway event. Hopefully the Chancellor will be as generous!
Wigton-based Twoey have between £6,000 and £8,000-worth of equipment available to give away and are hosting a drop-in event at their Syke Road factory on Wednesday 11th March for local schools and nurseries to go along and see if there is anything they can make use of.
School and nursery representatives will be able to pop along and look at the items available and take away what they feel will be of use to their establishment. Smaller products may be taken on the day and people will be able to register interest in the larger equipment so it can be allocated fairly. The types of items on offer will include Role Play Products, Early Years Furniture, Curriculum based resources, Book storage, Outdoor Storage, Outdoor Role Play as well as many other products.
Johanne Miller, the Managing Director, said: "I know that many organisations within the education systems are struggling due to continued financial pressures.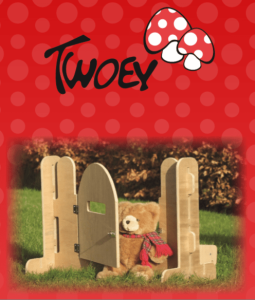 That's why at Twoey we felt as though we wanted to help out, even in a small way, by helping to provide some of our award-winning equipment to any schools and nurseries in the area who can make use of it. We'd love to see as many people as possible at the event and it's free to attend. All we ask is a donation be made to Jigsaw, Cumbrian Children's Hospice in exchange for the products visitors take away. Anyone interested in coming along is asked to register by emailing nw.projectsandservices@gmail.com.
The drop-in event will take place from 4pm to 7pm on Wednesday 11th. The event has been supported by Allerdale Borough Council's Business Engagement Manager Toni Magean, who helped facilitate this public-private sector link-up.
Toni said: "It's wonderful that a company like Twoey wanted to give something back to the local community. My role sees me support businesses and helps them connect with each other for the benefit of the borough, and I was more than glad to support this idea."
For further information please contact: 
Jo Miller, Managing Director, Mike Miller Associates Ltd
Tel: 016973 49774/45300  Email: jo@twoey.co.uk 
For more news from our members, please click here.