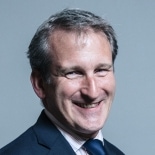 The forthcoming inaugural report from the All-Party Parliamentary Group for Education Technology (APPG) 'Lessons from Lockdown: what we learned about Education Technology in 2020' is due to be published in the coming weeks. 
The Group's Chair, Damian Hinds MP, was joined by BESA Director General Caroline Wright and APPG Vice Chairs Baroness Hooper, Lord Knight and Lord Lucas for a discussion about the work of the APPG and the upcoming inaugural report. The event took place on Friday 22 January at lunchtime during the final day of BettFest. 
The 45-minute discussion focused on three broad lessons that have emerged to date:
1) That during the initial lockdown of 2020, both teachers and parents realised how much tech can do to support children's learning outside of the classroom, providing they have access to devices and internet. And that teachers are the ones driving the inspiration, empathy and whole class/school community engagement levels.
2) We know that historically, workload issues have driven some teachers to leave the profession. Therefore, workload must be a priority when considering how the use of EdTech can be implemented and used to assist with the planning, preparation, and marking of lessons delivered during lockdown, when schools are partially closed, as well as supporting the collation of data and progress tracking. We must also ensure that adding the use of technology where it previously wasn't used doesn't add to the workload of teachers: time for CPD must be factored in when introducing new methodologies for teaching online.
3) We cannot overlook the fact that each child is an individual, with individual learning needs and will experience learning at home in a unique way, with much of that experience influenced by their family environment and access to a device and an internet connection. Good learning isn't just moving teaching to Zoom. There must be a commitment to close the digital divide as part of a legacy from this period
The panel discussed the importance of schools and other stakeholders being well informed about buying choices and noted how LearnED and LendED can help facilitate this. 
Other key observations included:
Pedagogy is just as important as technology. Children should feel at home and in touch with teachers and other pupils. No one wants children on screen all day every day and a blend of both is likely to work best. 
The important work that EdTech can do to support learning both in and beyond the classroom for children with special educational needs and disabilities.
The need to make decisions quickly in a crisis should be balanced with fair and equitable approaches to purchasing.
Supporting teachers in this area is key: look at Inset days, NQT and other professional development for technical training.
This period of remote learning has fostered a new and deeper respect among many parents for the skills of the teaching profession. 
British EdTech has much to offer the rest of the world too and is a key export growth area that needs to be harnessed.
One of the biggest lessons so far is just how much can still be achieved when we work together; by using the EdTech expertise that this country has in abundance, and by developing the right strategy with appropriate investment to ensure an equitable distribution of resources and expertise so that every child can flourish, whatever their educational setting.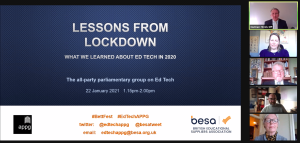 Our thanks go to the EdTech APPG for hosting this event.
If you would like to receive further information about the upcoming report, please email edtechappg@besa.org.uk.
Follow @besatweets and @edtechappg on Twitter for further updates.
#EdTechAPPG