To support National Writing Day on 27 June, we are launching our own writing competition.
Our stories feature a little dog, called Pojo, who gets itchy paws and goes off on adventures. So it would be great for children to write a story about one of their toys that goes off on an adventure while they are at school.
The competition will open on 27 June and close on 31 July 2018.
We regularly get children approach us when we visit schools with our writing workshops and tell us that they would like to be an author when they grow up or show us a story they've written. We've also seen how our visits inspire even the most reluctant of writers in the class to write.
Our visit to Collingbourne Primary School in Wiltshire inspired so many children that they had to double the number of entries they were expecting. That's why we are so supportive of the National Writing Day and why we've launched our own writing competition celebrating this important event.
It's wonderful to see the look of pure joy on children's faces when they've written a story. It boosts their confidence and self-esteem immensely.
The competition:
Our writing competition is aimed at primary school children aged between 5 and 10 years old. The overall winner gets a set of 6 signed Pojo books plus a Smart Kids Writing Kit for the school worth £108. The 7-10-year-old winner gets a signed Pojo book of their choice plus a Story Spinner game for the school and the 5-6-year-old winner gets a signed Pojo book of their choice plus an Inkwinks School Pack for their school.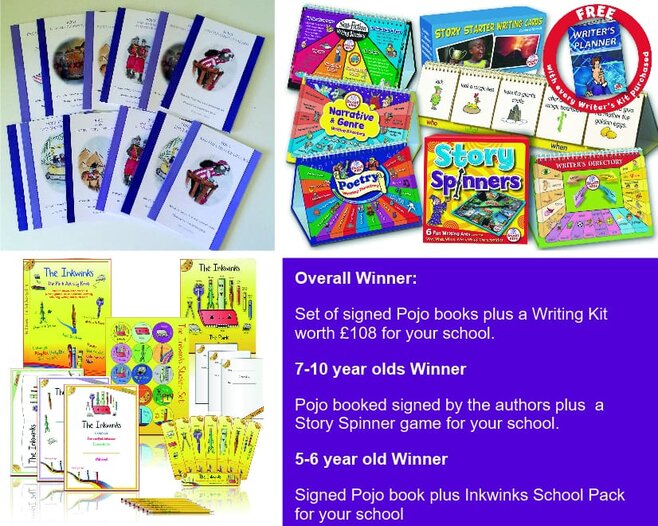 We'll also be sending out writing tips during the month to help children with their writing so keep an eye out for those.
To enter the competition, schools and parents can enter via our website and send the stories to us either in a word document or a pdf.
We'll notify the winner the first week in September when the schools are back. 
For more information, go to our website.