The recruitment agency Instant Impact is offering BESA members a 10% discount on their services. Felix Mitchell, the co-founder of the company, talked to us about the value that his company brings to companies and to new talent.
Q: What are you working to achieve at Instant Impact?
Instant Impact is a new kind of recruitment agency, where we focus on new talent. We help people leaving university to find roles in smaller companies and we help small and medium-sized companies to attract the same quality of talent as the big companies like PwC and Pearson. Hiring great talent shouldn't be exclusive of the biggest companies that have the biggest budgets.
We have a huge infrastructure targeting universities so we start working with students when they are at university already. We help them find their first internship, and when they graduate we help them find their first graduate job. We stay with them throughout their career too. We're trying to build a real community, real valuable relationships for everyone, and that's why we put so much effort into advising students when they are at university.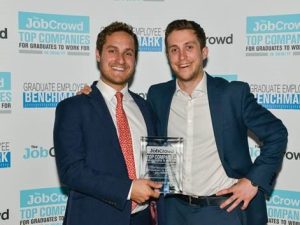 Q: What is the trend with internships?
Large companies have always been able to take on interns and that gave them a competitive advantage over smaller companies; the presence of recruitment companies like us have changed that.
The prevalence of unpaid internships has massively reduced, especially in the UK. So companies think a lot more about the value they can get of an intern now. A good internship is great for the intern and for the company because the company gets great value for money but they can also make a tried and tested hire for the next year.
Given the companies are now paying their interns in most cases, they take hiring an intern more seriously and there can be 2-3 stages of interviews.
Q: What would educational suppliers gain from working with your recruitment platform? 
We help our clients by offering them a quality of candidates that wouldn't usually go into their industry. Someone with a first class degree in maths wouldn't think of going into an online education company but that kind of company has got a huge need for someone who understands data. So we often use a skillset developed for an industry for another.
Sometimes we help companies understand the mindset of someone millennial or from Generation Z. It's really interesting how much students now care about development and the company's ethos – there is definitely a generation gap.
Q: What's the best piece of advice you can give to current students about their career? 
The best piece of advice I would give is that everyone at the moment is talking about the skills you need for the work of tomorrow – like learning coding languages, data languages – but these might not be relevant anymore. Instead, the best thing you can learn at university and in education is to learn quickly, teach yourself to self-teach, and work on social skills.
One of the biggest skills gaps in the next three years is people talking on the phone: companies are still going to be selling to people on the phone, so students will need to be comfortable talking in our language just as much as we need to be speaking in their language.