Sir Kevan Collins the first Chief Executive of the Education Endowment Foundation is to become Executive Vice Chairman of UK EdTech and pedagogy thought leader Learning by Questions (LbQ).
Sir Kevan Collins says
"I am delighted that I will be spending some of my time with Tony Cann and the team at Learning by Questions. I am convinced that when technology is well aligned to support and complement great teaching it has the potential to transform learning. The evidence about the impact of effective feedback is clear. Learning by Questions (LbQ) harnesses the power of technology to direct teacher attention to meet the personalised and immediate needs of individual learners. I am excited about the future of LbQ and its potential to make a huge difference to the lives of children and their teachers."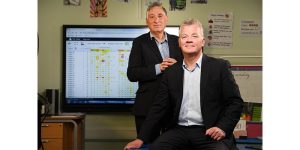 Learning by Questions recently won the Innovator of the Year award at the BETT show quickly followed by an Education Resources award and supports teachers to reduce workloads and boost pupil attainment by using high-quality questions with instant feedback and real-time lesson analysis.
Tony Cann CBE founder and Chairman of LbQ said
"I very much welcome Sir Kevan. We both believe that LbQ can play a substantial part in improving learning in schools and the lives of teachers."
– Ends –
About Sir Kevan Collins
Sir Kevan has worked in public service for over 30 years and became the first Education Endowment Foundation Chief Executive in October 2011, having previously been Chief Executive in the London Borough of Tower Hamlets. Prior to this role he led a distinguished career in education – starting off as a primary school teacher, leading the Primary Literacy Strategy as National Director, and then serving as Director of Children's Services at Tower Hamlets.
Sir Kevan also gained international experience working in Mozambique and supporting the development of a national literacy initiative in the USA. He completed his doctorate focusing on literacy development at Leeds University in 2005 and is a visiting professor at the Institute of Education UCL. He was knighted in 2015 for services to education and has been identified as the Secretary of State's Opportunity Areas 'Evidence Champion'.
About Learning by Questions
Learning by Questions (LbQ) is a cloud-based educational classroom tool and App that saves teachers time and increases their efficiency by highlighting which pupils need their help and which concepts need teaching during lessons. Pupils progress at their own pace and level through high quality Question Sets and receive immediate automatic feedback as they answer so that they can answer again and so learn even for wrong answers. Teachers receive real-time analysis and results are saved to support assessment and planning. LbQ covers KS2 and KS3 maths mastery, English and Science. With approaching 1500 Question Sets and 50,000 questions which teachers can freely access to use front of class and using LbQ on pupil devices during lessons.
Learning by Questions recently won the prestigious Innovator of the Year award at the BETT 2019 show quickly followed by an Education Resources award. LbQ is a pedagogy launched in October 2018. As well as improving learning LbQ reduces teacher workloads with instant analysis and marking.
LbQ is funded and owned by the Bowland Charitable Trust and led by the founder of Promethean Tony Cann CBE.
To arrange a press interview with Tony Cann CBE or Sir Kevan Collins please contact carole.fahy@cannco.co.uk.