Didac India 2018 will be the 10th Edition of India's unique Educational Exhibition.
When
10am - 6pm
Where
Pragati Maidan
Railway Colony
New Delhi
View Map
Price
us$550 per sq mtr
Didac India 2018 will be the 10th Edition of India's unique Educational Exhibition.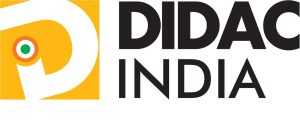 Didac India is the country's only event for educational supplies, training, technology and didactic material where education & training professionals from all parts of the globe can see, evaluate and purchase a comprehensive range of educational & training products and services.
The exhibition serves as a comprehensive platform to meet executives & decision makers from educational & training institutes globally and assist in implementing concepts and enhancing their educational standards & practices.
This year, Didac India will take place in its Capital City - New Delhi.
---
Why Exhibit at Didac India?
Only educational exhibition in the Indian Subcontinent
India is the fourth largest economy in terms of purchasing power parity
India has 1.5 million schools and 33k higher education institutes making it the world's largest market for education and training resources.
It is the largest home for consumers of education services in the world.
---
Stand Package
The cost of exhibiting at the show $550 USD per sqm and includes:
Space, panel walls and carpet
1 table & 2 chairs
1 power socket (13 amps)
Lighting (3 spotlights)
Security, cleaning & 1 wastepaper bin
Fascia with company logo & British flag
Show guide
UK brochure
15 - 20 min workshop
5% discount to past exhibitors
---
DIT Support

For this event there are grants available from DIT. These will be allocated on a first come first, served basis, providing you are eligible. The value of the grant is £2500. If you would like to exhibit and apply for a grant, please complete both the booking form and the grant application and send to lois@besa.org.uk. 
For companies that apply and are eligible for a grant, the grant will be paid within one month after the event has taken place.
---
How to apply
To take part in Didac India, please complete the relevant forms found below: Booking, Grant and T&Cs forms.
For eligibility please see the T&Cs below. For more information, email  Lois.
For further information on the show please go www.didacindia.com
GESS Indonesia takes place the week before Didac India, why not take part as well. We are also delighted to announce a brand new BESA expo in Vietnam. While we finalise the details, please express your interest to william@besa.org.uk. Three markets, three grants and one great trip!

Sign up for updates from BESA
Latest event
04/10/2018 - 06/10/2018 @ 10:00 am - 6:00 pm - Only educational exhibition in the Indian Subcontinent
26/09/2018 - 28/09/2018 @ 9:30 am - 5:00 pm - There is no better place to see the latest educational...